Soon it will be time to think transitional dressing. Here are the 5 key pieces you want to invest in, and start wearing, right now:
where can i purchase antabuse Culottes or cropped pants – This is THE shape of the season. Culottes vary in length from just below the knee to just above the ankle and widen from the hips. They can be very full or be just a bit wider than straight legs. The fuller and longer you go, the more fashionista points you earn but the harder the pants are to wear. Cropped pants flare from the knee and tend to hit just above the ankle. These look coolest when paired with matching shrunken blazers or cropped tops for a very 60's mod look. Either way, ignore the looks you'll see in some magazines and wear these with heels (unless you are one of the lucky few who was born tall and thin – in which case pointy-toed lace up flats are awesome).
this content Denim or suede skirt –  Choose an A-line one in a mini or knee length and go collegiate with a V-neck sweater layered over a plaid shirt (or a turtleneck layered under your shirt) and booties, or play up a sixties or seventies vibe with Chelsea booties or tie-neck blouses. You can also opt for a midi length for a cool retro look. The newest way to wear this length? With mid-rise boots (the ones that rise to your calves).
Long sleeveless blazer – Layer yours over tunics, dresses, or a shirt and flared trousers. It's a perfect transitional piece and, when it gets colder, will layer easily under your coat.
Flared  or straight leg denims – Flared jeans (when your jeans flare widely from the knee) are the more fashionista choice but they accentuate curves. Be sure to hem yours so they just skim the floor with your shoes on. Straight leg styles are probably easier to wear but can look boring so be sure yours fit perfectly. You'll earn fashionista points for trimming the front part of the hem so it's shorter than the back by 4 or 5 centimetres to show off your shoes or booties and make your jeans stand out.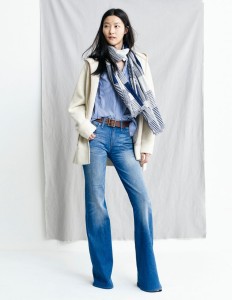 Brooches – They're back and a great way to personalize your work wear or your favourite denim jacket. But don't wear just one and don't even think about wearing it at the neck. Mix and match any number of brooches and group them on your lapel, the shoulder of a coat or jacket, or all over a wide collar for a funky, creative look.