pop over here I'm a huge denim fan. I'm lucky to work in a casual, creative field where denim is almost a uniform so I get a lot of wear out of all my denim pieces and, each season, I pick up the latest denim trend to mix in with the rest of my more classic work wardrobe. But this season it was tough. Designers showed weird lengths and weird shapes and none of it was really that good for my body type. I knew that distressed denim was hot, I knew cropped jeans were the newest thing, and I had seen a lot of tunics (which I usually love) – but none of it really spoke to me. Then I went to Montreal!
Aurogra overnight delivery Somehow, the stores there managed to pull together looks using this season's top trendy pieces (including the tunic and the cropped flares) that really inspired me. My favourite look was a cool take on a suit created with cropped flares and a tunic – both in thoroughly distressed denim. It shouldn't have worked but it so did. For the first time I completely "got" the cropped flares and the tunic was perfect with them. I loved it!  I could imagine both pieces in my wardrobe. I was flooded with ideas of what I could wear them with. Together of course, but I could also imagine the jeans with a tuxedo jacket and a tunic length white shirt or casually paired with a striped tee and keds, the tunic over a midi length skirt and pointy toed stilettos or tucked into a shorter mini skirt with over the knee boots for a cool layered look on the weekend. I hustled in, totally prepared to buy. I was sold.
Turns out if wasn't as easy as dropping my credit card. First,  I'm apparently not tall enough to buy cropped flares in the stores. The length is all wrong and I just look stupid. That hurt a little. Despite that,  I was still keen to buy the tunic. It was beautiful – soft, the perfect shade of faded blue that looks like you've owned it forever, frayed hems, cropped sleeves. Gorgeous. And SO expensive. When it came right down to it I just couldn't justify many hundreds of dollars for what is, essentially, a long denim shirt – especially since I knew there were tunics everywhere. So… my perfect outfit was not coming home. At least not from that store.
But I couldn't stop thinking about it. Time to get creative.  In the spring I had embraced cropped jeans though mine were cuffed. I came home, undid the cuff, was thrilled to find it made the jeans long and wide enough, and immediately cropped them a little above my ankle. There's just enough flare to work and they are perfectly in proportion. I left the hem unfinished and am actively encouraging it to fray. Pants – done! My own version of cropped flares for next to no money (the jeans were $25 at Marshall's in the spring which is why I'd been willing to give them a try at all) and just a few minutes with a pair of scissors. But all the tunics I found were boring. They just didn't say "fashion" and they all looked exactly the same. Once again I was uninspired until I found one at H&M that was in the right wash. Great colour with just a hint of distressing. Good length. Bad everything else; it was vanilla. But it was $30.00. So I picked it up and prepared to customize it myself.
First, I got rid of the finished hem on the sleeves and the bottom, then I trimmed the sleeves to 3/4 length. Most of the designer tunics on the runways had shorter sleeves (or no sleeves at all). I may actually decide to take the sleeves off mine entirely but I wasn't prepared to go that far right off the bat so the 3/4 sleeves were a compromise. I'll see how I like them and whether I would get more use of the tunic as a vest. If so, I'll just cut the sleeves right off.
I don't have a sewing machine so I spent $16 to get the tailor to put in a seam about 1 cm from the cut edge of both the sleeves and the bottom of the tunic to control the fraying.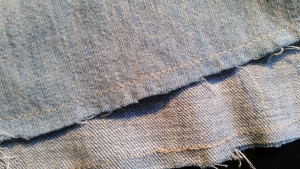 Then I frayed the edges myself. It's time consuming but really not difficult.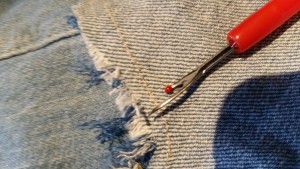 I made sure to fray right to the edge of the seam so that it pretty much disappears. Finally, I trimmed all the threads that were too long or looked messy because I wanted a neat, consistent hem.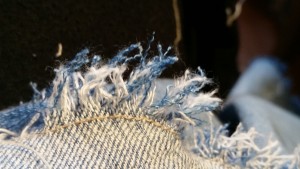 Ta Da! This is more like it. It looks more expensive, more fashionista and less cookie cutter. Perfect.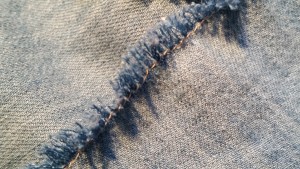 Combined with my new cropped flares, lace up booties and a patterned clutch plus a bright red retro car coat to combat the morning chill it's the perfect blend of fashion forward and comfy. All at a fraction of the price.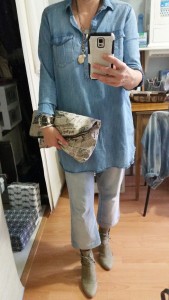 The moral of the story? You don't have to wear the clothes the way they were manufactured or shown in the stores. Use what you see on the runways or in display windows as inspiration then modify, tailor, and distress to your heart's content for a look that is totally your own.