Based on a slew of Pinterest posts and comments about the difficulties involved in wearing booties, it would seem that many of you find it hard to figure out how to wear them and what to wear them with.
First off, it's important to differentiate between a bootie and a short boot. Booties go to the ankles or just above. Choosing a pair that rises up to your calves (those should really be called short boots) will make it much harder to wear – unless you are model tall or have really long legs. Booties that stop just above your ankles, however, are easy to style and pull off for just about everyone. Shooties are shoes that completely cover the foot like a boot would but are fitted and do not rise above the ankle bone. Those are super easy to wear but they tend to be dressier than booties.
,
 BASIC BLACK HEELED BOOTIES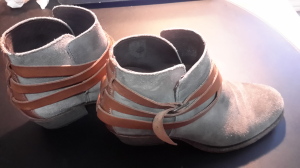 CASUAL LOW-HEELED BOOTIES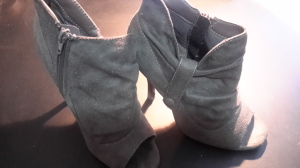 DRESSY OPEN-TOED BOOTIES
So booties… Booties are easiest to pull off with skinnies. The trick is to roll up your jeans or cargoes to just above the boot. The nicest rolls are narrow (they're most flattering) and a little messy. I like them most when they're uneven and I go out of my way to make sure the front and back are not exactly the same length. Showing a tiny bit of skin (or sock) in the front makes your legs look longer. Do not tuck in your jeans into your booties or attempt to pull them down over top of them. Booties do not work with wide legged or straight leg jeans.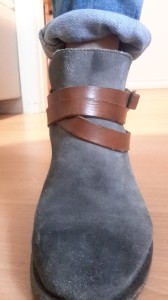 MESSY ROLL TO JUST ABOVE THE BOOT
Booties can also be super cute with shorts or skirts. The longer the shorts, the higher your heel should be to elongate the leg. Bare legs are required for shorts to work unless they're really short and you're matching them with tights that match your shorts and / or your booties. Generally, it's easier to do booties with shorter flared or A-line skirts. Longer flared skirts can work but the key is to make sure that there is leg showing between the skirt and the boot. Fitted minis can also work – as long as you're wearing tights. Match the style of the boot to the clothing. A casual tunic dress needs casual booties with a lower, chunkier heel. A midi skirt demands a dressier bootie, ideally with a stiletto heel. Jeans will do either style so match the bootie to your overall look – dressy clothes for stiletto booties or shooties and more casual looks with flat or chunky-heeled booties.
If it's cold enough that socks are required (or you're trying to avoid blisters!), let a tiny bit of bunched down sock show. I like my booties best with thin socks because I can bunch those without having the socks look too heavy for the boots. Shooties need hose or tights if it's too cold for bare feet and legs.
That's it. Booties 101. You've passed. And since booties and shooties are versatile and sexy  you should definitely get at least one pair. Happy shopping!