can you buy Lyrica in canada Here are some of my outfits broken down for your inspiration.
You'll notice, I'm sure, that some items show up over and over. Those are my key seasonal pieces that I combine with the rest of my wardrobe to create on trend looks without spending loads of money each season. This season, those key pieces include a striped T, cropped jeans, a denim tunic, and culottes. 
buy orlistat 60mg Classic Blues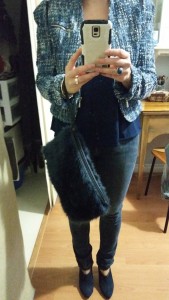 I've had this great tweed jacket for years but I reach for it every time I'm feeling uninspired or if I need a bit of help because of late nights and lack of sleep. Blue is a great colour on me and it plays up my eyes so I get complimented on the flattering colour rather than told I look tired or drawn. Paired with skinnies and matching shoeties it's a totally easy outfit. The purse was a spur of the moment buy before a trip last Christmas. I needed something fun to wear out to dinner at a ski resort and this seemed perfect. It was cheap enough that I didn't even mind never using it again. Except that it's become a favourite. I reach for it all the time. It's the perfect size, it's got the wristlet so I don't have to hang on to it all the time, it's a great colour and the faux fur is so in again. It's a quirky touch in a more classic outfit. I like that.
A Touch of Red to Warm up a Dreary Winter Day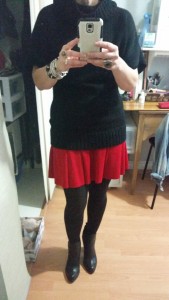 Black booties, a flared red skirt, and a long sweater… Done!
Super Simple but Comfy and Pulled Together
I wasn't feeling very well this week or last (fighting the cold / flu thing that's going around) and so I wasn't very motivated to dress. This outfit was perfect as it's as comfy as sweats but looks a little more pulled together. Combining my cropped flares with an over-sized short sleeve sweater and booties was super easy and totally comfortable. Tucking in the sweater at the front provides a bit of structure and stops me being overwhelmed by it. It also makes my legs look longer which is important – particularly when I'm wearing crops. The booties help too because they have a chunky 2 1/2″ heel which is easy to walk in but adds much needed height. Lots of bangles and a cuff along with a long necklace complete the look. Instead of a coat I threw on my denim jacket and a faux fur vest. It's warm enough for this time of year and adds interesting texture.
Animal Prints as a Neutral 
Animal prints, like stripes, never go out of style. They are easy to mix and match with any colour and with loads of other prints. In other words, they act like a neutral and are a wardrobe staple. This is an Escada jacket I bought years ago at a consignment shop and had tailored. I shortened it and changed the buttons and ended up with a really "wow!" jacket  in a very small check in cream and khaki. It's paired here with a linen blend tank in cream and grey (half-tucked to prevent the look from looking sloppy), straight leg denims, and leopard print platform lace-up shoes. I've cut the front of my jeans a few inches shorter than the back – it shows off my shoes and is super trendy. You would think that the pattern in the tank, the checkered jackets and the shoes would compete but they don't. The animal print functions as a neutral, and the jacket's print is small (acting more like texture than a print) while the tank's is really large. Because the colours are all fairly neutral, the whole thing works really well and is funkier than if I'd gone for grey, brown or khaki booties – all of which would have worked as well.
The Power of Red 
A red blazer is a must have item. A blazer provides structure to any outfit which is why you should absolutely own at least one. Red is a power colour. It gets you noticed, it inspires confidence and it screams style. You can make any outfit seem more work appropriate by throwing on a jacket – but make it a red jacket and you also make it instantly more stylish. Here I've paired distressed boyfriend jeans (my favourite style as they're so comfy) with a lace tee, snakeskin pumps, an armful of bracelets and a red jacket. I added extra fashionista points by mixing prints with my patterned clutch which picks up the colours in my shoe and by using the lace tee for added texture.
More Mixed Prints – Cause it's Fun and Easy!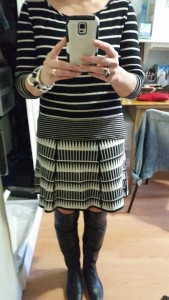 This is one of my favourite T-shirts. It's soft and perfectly cut. I actually had it tailored because it was too long for me so that now it sits perfectly just at hip level. It's paired here with a knee-length skirt in the same cream and black.  It's actually one of the few outfits that I actually bought to go together. I loved the knit pairs that were hot last year but they were a lot harder to find than you might imagine – so I made my own. I like that it's a t-shirt rather than a sweater which gives me a lot more wear year round. The skirt pairs really well with cream or black sweaters and, matched with a blouse and black jacket, is a more relaxed take on a suit. As for the t-shirt, I wear it all the time – with my leather skirt or leggings, with black jeans and booties for a totally hipster look, with sweats, etc. Together the skirt and tee are fun and just as easy to throw on as a dress. Because the colours are exactly the same the mixed prints are easy on the eye and just help to make the very simple outfit more interesting. I could have chosen to add booties, flats, or pointy toed pumps but I went with over the knee boots instead since it was cold and I refuse to give in to tights just yet.
Chunky Sweater and Heels
This is a look that's much easier to pull off than you would think. Start with a great pair of boyfriend jeans. You want them to be relaxed and not too girly. Add a textured chunky sweater. I always half tuck mine in the front for a bit a structure. Particularly with boyfriend jeans (which can be a bit on the loose side) you want to highlight curves rather than just being buried in your clothes. This way it looks relaxed but not messy. Then add some cool jewellery. I went for something funky and a little chunky to mirror the sweater. I created the look by weaving a large pearl necklace in and around a chunky silver necklace. It plays on the layered necklace trend and I'm a sucker for pearls so it's perfect. I also added a silver and pearl cuff bracelet which doesn't match the necklace but has the same vibe. Finally, finish the whole look with a dainty, ladylike pair of heels. In my case, I chose a textured slingback but a strappy sandal or a classic pump would have worked just as well. And voila! An easy, comfy, go-anywhere outfit.
A Classic For A Reason
There's a very good reason why the chunky sweater and skinnies look is a classic. There's also a really good reason why black and white never goes out of style. Those looks work every time! Here I'm wearing a new chunky sweater in black and white with a fringe detail across the front for just a touch of added interest. It's paired with my leather skinnies and black booties. I love that the zipper on the leather pants is exposed. It's a little edgier and makes them stand out. Because I wanted to show that off, and because I get overwhelmed by chunky sweaters if you don't get at least a hint of curves, I half-tucked the sweater in the front for a bit more structure. A cool black ring and black front and back earrings and I was good to go.
Monochrome Dressing
Dressing in one colour from head to toe is trending right now and it makes for simple, classy outfits. Combining sweaters and skirts in one colour creates the impression of a dress and is a totally easy way to look pulled together. Here I paired a short sleeve woolen sweater with a chiffon skirt and wedge Mary Janes. In classic navy it's perfect for work.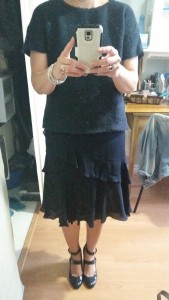 Earth Tones for an Easy Autumnal Look  
Earth tones always work together and combining an orange sweater with khakis is an easy way to wear colour. Orange is super trendy right now but it's a great accent colour no matter the season. I tend to stay away from mixing it with black as it's just too Hallooweenish but I love it with beige, brown, navy, denim, and grey. Here is throw in grey boots and a grey belt as well as a taupe and blue scarf for interest sake. It's less expected than brown booties and a khaki scarf and much more interesting. I added two silver brooches for a little extra trendiness. I simply chose two that are fairly light so they wouldn't pull the scarf down and pinned them through multiple layers because that helped hold the whole thing in place. Topped with a charcoal leather jacket and a chunky cuff bracelet, it's the perfect fall casual outfit and easily took me to Niagara wine country for winery tours.
Playing with a Quirky Print:  
Some designers went crazy on the runways this season showing cartoony prints, bold colours, and accessories that were more reminiscent of toys (or slippers) than serious add-ons to a grown-up outfit. My first instinct was to write the whole trend off. But then I saw this skirt by Desigual in a little boutique in the Eastern Townships in Qc. The print was quirky and fun; the skirt didn't take itself too seriously (like the costume trend), but it was wearable and would mix with the rest of the stuff in my closet. Plus it has great texture, a great line, and, in classic black and cream, it's seasonless. Some of Desigual's pieces can be expensive but this little beauty was really affordable to boot. Score! I matched it with a navy cropped linen and cotton top with a frayed hem and black trim at the neck and arms. I love navy and black though it can seem counter intuitive to some. The black trim ties in with the skirt and the frayed hem adds a trendy feel. Paired with black booties with green pony hair, it's a fun take on some of the key colours of the season. It all works because the skirt is quirky enough to handle the green and blue, and because something in every piece is just edgy enough to give the whole outfit some balance. A fun outfit that comfortably did a low key day at work but would also do a lunch date with the girls or a casual night out.
J. Crew Inspired: 
J. Crew is not the same store you use to shop at in your teens. They are hot and totally on trend with cool jeans and great collegiate looks to choose from in-store. I was totally inspired by the denim looks from their fall collection. My favourite was a pair of boyfriend jeans with booties and a striped tee. I love stripes for their versatility and, when they're done in thin navy and white, their French "je ne sais quoi" classic appeal.  I cannot get enough navy and white stripes – with hoodies, long sleeves, tanks. I own them all and keep buying more. This is the same tee I wore earlier in the week (it's in heavy rotation right now and I'm hand washing it to keep it looking its best as long as possible) but here it's worn with cropped jeans, a red car coat, a textured navy scarf and navy sued booties. It's easy, it's classic and it can go anywhere.
My version                                    J. Crew Fall Lookbook 2015 
Montreal Inspired: 
I have to admit that I was not all that inspired by this season's offerings until I went shopping in Montreal. This is my (much less expensive and customized by me!) take on my favourite look from Ste-Catherine St. display windows.  A distressed denim tunic casually worn over cropped flare denims, lace-up booties, paired with a chunky cuff, earthy layered necklaces, and a patterned clutch. For a touch of lady-like class (and because it's cold out this morning) I'm throwing my red retro car coat over top. It's a fun, much more fashionista, and comfy take on a suit. (Check out my blog post for all the details on how I customized both the jeans and the tunic.)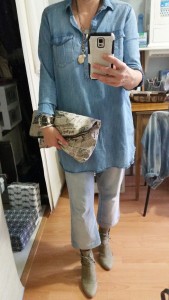 Leather: 
I recently invested in a black fit and flare leather dress. While this isn't the most current shape (sheaths or A-line tunics are much trendier), it's a classic that will never go out of style – plus this shape is flattering on every body type. Worn here with a see-through polk-a-dotted blouse and open-toed booties, it's an easy "thrown it on and go" outfit.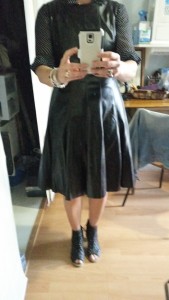 Embracing Culottes: 
I tend to build an outfit around one key piece. Sometimes it's a great necklace or an awesome pair of shoes. Other times it's a top or a bottom. In this case it's my new pair of culottes. This trend can be tricky because cropped pants can visually cut you and make you seem short and / or chunky. The answer is to watch proportions and to wear heels – always! This pair, in super trendy suede, hangs to just under my calf muscle. That tends to be the most flattering length on most women. I love how cool they look – a total outfit maker! Paired simply with a striped T (which is in heavy rotation because I love stripes and this one is so comfy) and heeled Mary Janes they are perfect for a low key work day but would work just as well for a casual get-together. Because it was cool this morning I threw on a great textured navy scarf with my denim jacket and finished it all off with an orange tote for a bit of colour.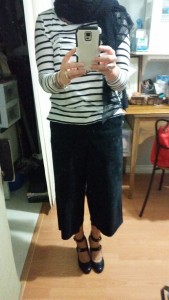 It's Too Warm for Fall But… 
In the spring, shorts and sweaters were all over the runways. And you already know that I love shorts! So I'm taking full advantage of the great weather we've been having this September to wear them as often as possible. The thing is that in Toronto in the fall (like in the spring) we often have temperatures at odd with the season.  For the last few weeks we've been having summer temps but feeling fall so shorts can be tricky to pull off if you don't want to look like you're out of sync with the calendar. At the same time, there's no way I'm wearing heavy fabrics or am willing to be totally covered up as it's still seriously warm out there. Here my newest pair of shorts (from a Lulu shopping accident in July) is paired with one of my trendy spring purchases, a mesh over-sized sweater with a zipper running all the way down the back. I bought the shorts really big (2 sizes bigger in fact) so they would be baggy and very loose. I love how they fall on my hips and how fluid they are. Paired with the over-sized sweater it creates a very casual, comfy looking base for my outfit. In the spring I would have thrown on sandals or white sneakers and called it done. But that did not look or feel seasonably appropriate (even with the long sleeves) so I got a bit more creative. I pulled out one of my favourite scarves and used that to visually bring the outfit into fall without adding unnecessary layers or bulk. It's a beautiful silk square scarf with a huge orange, fushia and green floral print – which just happens to be right on trend right now and picks up the pink in the shorts. It was then a no-brainer to throw on my Toms booties and a black tote (to anchor the whole look) for a cute outfit that was temperature appropriate but also looked seasonally OK.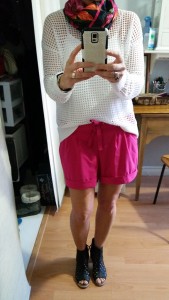 Playing with Trends: 
I got up the other day and just felt like experimenting. So here's the result of playing with 5 key trends of the season. Let me preface all of this by saying that I never wear a trend head to toe but that I often incorporate trendy items into more classic outfits. This, however, is maybe the first time that I've combined so many trends in one outfit. First, the jeans. I've shown you these before (I packed them for Halifax) but in the spring / summer I was wearing them with a big cuff. I've gotten rid of the cuff and chopped them above the ankles. My own version of cropped flares (inspired by a pair I saw in Montreal). You can hardly get trendier. I've paired them with a great, super comfy striped T from Forever 21 and a pair of green high heel Mary Janes (which I've, in fact, owned for nearly ever!).  In order to accessorize I paired a chunky stone choker with an equally chunky silver necklace and a slightly longer earthy pendant. Layering chokers and chunky necklaces is a huge trend. It's not the way I normally wear necklaces but it really felt right with this outfit. I finished off the whole thing with a structured, top handle green tote. 5 key trends: cropped denim, collegiate (the striped tee), mod (the Mary-Janes), green, and layered necklaces. Result: one totally cute outfit  that is much more "me" than wearing any one trend from head to toe.
Mixed Prints for Instant Cool 
I'm a huge fan of shorts and these were a fave item last year. I revived them by mixing them with a polk-a-dotted tunic. It's tucked in for a more streamlined look and the navy belt and shoes help tie the look together.Simple jewellery and a bright purse round off the easy look. While the shorts are too short for many offices, they look professional when worn with a blouse and low heels. I could, of course, have added a blazer in white, navy or a third print but it was just so damn hot!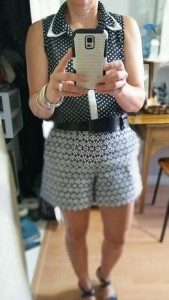 Casual Girly
I love boyfriend jeans. They're comfy, they're cool, and they instantly toughen up girly looks to prevent them from being too sweet. I picked these up at Ardene for under $30.00. By buying them a few sizes too big I got them to look just perfectly oversized. Rolled messily to just above the ankle they work just as well with oxfords or booties as they do with stilettos. Here they're paired with this cute little cotton tank in a big daisy print. I fell in love with it right away – the navy background, the huge flowers, the touch of yellow and the lace. It's perfect with faded and distressed denims or cut offs. Here it's dressed up a but with a thin belt, a chunky wooden bangle and a cool silver ring. To add a tiny element of surprised I threw on striped oxfords (bought years ago at Forever 21 for a song); the menswear touch is much more unexpected than ballet or pointy toed flats.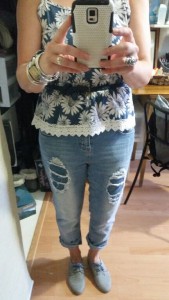 Girl's Weekend Away 
So this was a tough packing job because I didn't know exactly what we were going to do or where we'd end up and Halifax is considerably more casual than Toronto. There was also the pressure of hanging out with old friends from high school I hadn't seen in years. It was important to look good, feel comfortable and be dressed appropriately. Usually, for a weekend, I decide on different specific outfits for every day and every activity (dinner, a show, sight-seeing, beach, etc.) and pack each of them along with required accessories. I always stay in one colour family so I can minimize the number of purses, coats, and shoes that I will need and so jewellery will also work with multiple outfits but I rarely worry about making sure that pieces can be worn in various ways since a weekend is so short. This time, because I needed a lot more flexibility with my outfits I approached it like I do packing for longer trips. I needed to minimize the number of pieces but maximize the number of different outfits I could pull together. It took a bit more time but, I have to say, it worked really well. When I was done I had  12 pieces of clothing, 4 pairs of shoes, 1 bathing suit, 3 belts, 2 purses, 2 pairs of sunglasses and 12 pieces of jewellery for a total of 14 different potential outfits. I could go from super casual, to pretty dressy and from cold and damp (which is not unusual in Halifax) to hot (which is also a distinct possibility in July) – and everything easily fit in my carry on! 🙂
Individual pieces:
Denim jacket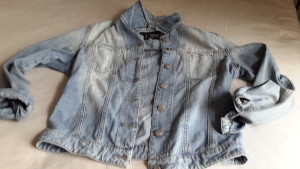 Silk tunic top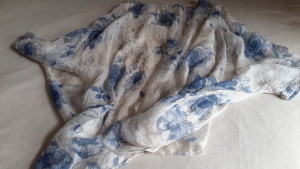 Lace 3/4 sleeve T and tank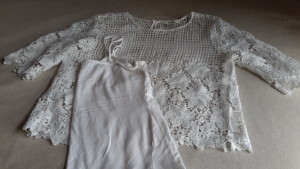 Lace dress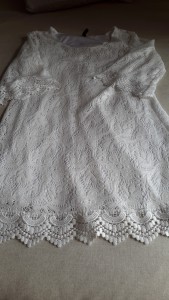 Black Uniglo cardi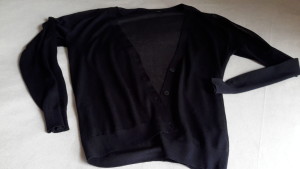 Cropped flares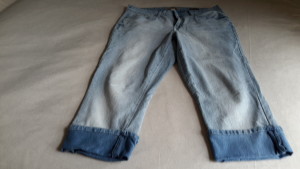 safari jacket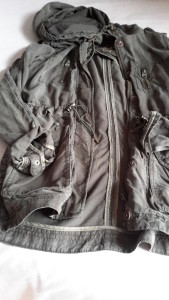 Potential outfits:
1. patterned elastic waist shorts, blue tank, with or without khaki safari jacket, khaki lace up booties, grey tote, blue stone ring, pink stone ring, wooden cuff, pearl studs, Chanel brown / black sunglasses
2. patterned elastic waist shorts, pink silky tank, with or without khaki safari jacket, khaki lace up booties, pink stone ring, wooden cuff, pearl studs, grey tote, Chanels
3. patterned elastic waist shorts, bikini top, casual open back pink tank, black sandals, grey tote, pink stone ring, black bracelet, Ray Ban white sunglasses,
4. bikini, pink open back tank and / or elastic wast shorts, flip flops, Ray Bans, black bracelet
5. Dressier grey patterned shorts, blue tank, khaki lace up booties, grey tote, pearl studs, pearl cuff, Chanels, with or without denim jacket
6. Grey patterned shorts, blue tank, black thin belt, black sandals, Ray Bans, grey tote, black bracelet, black stone ring, diamond hoops, with or without black cardi
7. Grey patterned shorts, pink silky tank, khaki booties, pearl cuff, pearl studs, grey tote, with or without denim jacket
8.  Grey patterned shorts, pink silky tank, black sandals, think black belt, pearl cuff or black bracelet, diamond hoops, black stone ring and / or pink stone ring, with or without the black cardi, Ray Bans, grey tote
9. Denim, blue tank, thick black belt, black sandals, black bracelet or wooden cuff, blue stone ring, with or without black cardi, grey tote
10. Denim, pink silky tank, thick black belt, black sandals, black bracelet or pearl cuff, pink stone ring, diamond hoops or pearl studs, with or without the black cardi
11. Denim, bikini top, casual open back pink tank, black belt, black sandals or flip flops, black bracelet and black stone ring
12. Denim, lace tee with tank, rope belt, khaki lace up booties, pearl drop earrings or pearl studs, pearl cuff or organic silver pearl bracelet, with or without khaki safari jacket, vintage Chanel purse worn as a clutch, Chanel sunglasses
13. Denim, silk flowy flowered blouse, strappy heels, rope belt, pearl drop earring, organic silver bracelet, grey stone ring, Chanel clutch, with or without denim jacket, Chanel sunglasses
14. Lace dress, khaki lace up booties, pearl drop earrings or pearl studs, organic silver bracelet or pearl cuff, with or without khaki safari jacket or denim jacket, Chanel clutch, Chanel sunglasses.
In hindsight I did not need the dress nor did I need the silk blouse and heels. Everywhere we went was more casual than that and my denims and lace tee was more than appropriate. Otherwise, I wore all my pieces and felt appropriately dressed everywhere. 3 extra pieces is not bad really…
A Fun Take on Floral Prints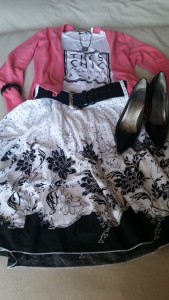 The outfit: I love this floral print and polk a dotted full midi skirt. It's so sweet and girly but because it's black and white it's not overly fussy feeling. Paired with a wide black belt it's also super flattering. This time I paired it with a graphic tee in black and white. It cuts down on the girly factor and makes the whole outfit a bit more casual. I added a pop of colour with the bubble gum pink shrunken cardigan. I like the mix of traditional and girly with edgy and casual. It's the tension that makes the outfit more interesting than if I'd paired the skirt with a white blouse.
The accessories: I balanced the trendy and very casual graphic tee with classic pointy toe black pumps, a classic black tote and a black bangle watch. A structural necklace on a black leather cord adds another unexpected touch to the girly skirt and classic cardi.
More Mixed Prints and Mixed Pastels – Perfect for Spring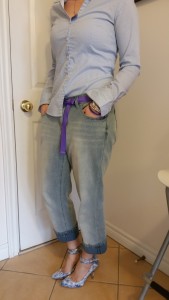 The outfit: I'm wearing my new crop jeans which are in heavy rotation right now because they're so trendy (and so comfortable). As I said before, the big cuff feels new right now and the over-sized boyfriend look is still very in. They are paired with a button down with baby blue stripes. I'm wearing it with a half tuck to show off the belt and with the cuffs undone for a bit more of that casual cool. Here I'm wearing the shirt done up but it would have worked just as well with a few more buttons undone layered over a white tank. To add a bit of interest to the jeans and button down combo (which is really very standard) I'm wearing flowered pumps in baby blue and lavender. Blues and purples are in the same colour family and work wonderfully together and baby blue and lavender is one of the hot colour combos for the season. I'm playing on that, and picking up the colour mix in the shoes, with the lavender belt and a plastic lavender bangle mixed in with my silver bracelets. A pendant in the same colour family picks up the lavender once again and helps tie everything together. I love mixing prints and florals and stripes in the same colour are so easy. I could have done the outfit with a pencil skirt or cropped trousers of course but denim is so in this season that it feels newer with the jeans. Since it was pretty cool out I threw on my safari jacket (though I considered my mint green trench) and sported a purple tote. The whole thing felt fun though pulled together and was super comfortable.
Mixed Prints and Spring Leather
The outfit: I'm wearing a classic leather pencil skirt. It's super flattering because it has vertical seams in the front in contrasting stitching. The tee-shirt is from BCBG and is super soft. The boat neck is flattering because it shows off my collar bone a little; because I have wide shoulders and boobs I need to be careful of crew necks. Stripes are my signature print. I gravitate to them like a moth to the proverbial flame. While it's true that vertical stripes are instantly elongating, it's a myth that horizontal stripes are always fattening. And I love the mix of wider stripes and narrower ones on this top – as well as the super long and narrow sleeves. Plus the creamy off-white stripe tones down the black a bit and makes it easier to pull off as black is not my best colour  – and it picks up the stitching in the skirt (details, details details!). I'm really into mixing prints right now so I paired the two with my snakeskin pumps. The classic shoe and skirt dress up the tee-shirt  and the similar colours mean that the mixed prints aren't jarring to the eye.
In fact, stripes are the easiest pattern to mix. They go beautifully with florals, polk-a-dots, animal prints, and other stripes because they are so graphic and simple. Animal prints – particularly when they occur in basic colours like on my shoes – function as a neutral and can be mixed with anything. Putting these two prints together is a no-brainer and it makes the outfit so much more interesting than black shoes or nude pumps would have.
The accessories: I added a pearl and silver bracelet, pearl drop earrings and layered necklaces. Simple and clean and the pearls (and the rock pendant on one necklace) picked up the creamy white stripes. To add a punch of colour I carried a red and caramel fold over clutch and I wore my red car length coat. Classic but a little funky!
 My Version of Boho Chic: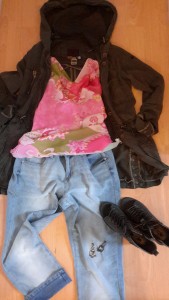 The outfit: So these are my new cropped jeans. They're the perfect colour and SO soft. I bought them a little big so they hang nicely on my hips but can also be cinched in a little for a totally different, but equally great, look. I like them with the big cuff. It feels new. They are mid calf and, since they have straight legs, this gives a very different feel from cropped skinnies. It's close to the culotte feel that I was after (though I haven't found the perfect denim culottes yet). The jeans are paired with a designer silk flowered tank in pinks and green. It has a nice scooped neck and has a very luxurious feel. Over top I've added my new khaki safari jacket again. It's sure to be a go-to this season as it fits perfectly and it's so very on trend that it makes everything I wear it with look current.  I love the mix of the soft feminine top with the over-sized cropped jeans and the masculine jacket.
Accessories: The whole thing is paired with my khaki lace up booties from Forever 21. They happen to be the exact same colour as my jacket and I like how trendy and a little bit tough they are. The final touch is the chandelier earrings in the same brilliant green as in the tank.
The whole outfit is a mix of girly and masculine, taylored and high end with casual and edgy. For me that makes it work.
Spring Layers for a Casual Day Out: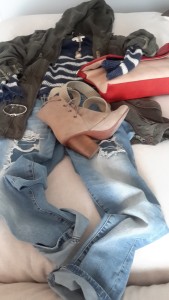 The outfit: There's actually a lot going on here. First the sweater. Stripes are a really clean and easy pattern to wear but they add interest to an otherwise really simple sweater and a really simple outfit. And blue and white stripes always say spring and summer because we associate them with nautical things. So, that does two things: it makes the outfit stand out and it makes it look seasonally appropriate. At this time of year, when the actual temperature often conflicts with the calendar, light layers that provide warmth but visually say spring are key!
Then you have the boyfriend jeans. Those are literally $20 jeans from Ardene. I loved the colour and the distressing on them, and how soft the denim was. I bought them 2 sizes too big so they hang on my hips and fall really nicely. With a messy roll they are the perfect partner for the slightly over-sized sweater which I wore half-tucked in the front for a bit of definition. The colours play nicely off each other too.
Then I threw on the anorak (or safari jacket) over top, rolling the sleeves and pulling them up to show the sweater sleeves a bit. It looks lighter than a coat but still feels warm enough as long as you're not outside for long. The safari jacket has cool military details which are right on trend, It's loose enough to say "I just threw this on" but fits well enough so that the whole thing says casual but pulled together.
Accessories: To finish the whole thing off, I added beige lace up booties, a canvas belt in the same colour, a stone pendent that picks up the same beige tones and a funky little silver bracelet from Cuba. The bracelet has a few tiny red stripes on it and that inspired me to carry the red clutch. I really like matching accessories right now but I don't want them to look like they're a set. The red is just "off" enough to look funky (and pick up on the nautical theme a bit) but the caramel ties it all together.
Transitional Dressing – When You're Desperate for Spring but it's Freaking Cold Out Still: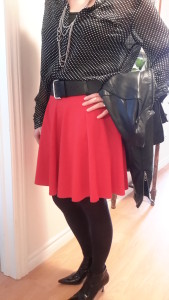 The outfit: I just bought the little red skirt at Zara's and really wanted to give it a whirl. It felt so bright. But it was freezing so tights were really important. Generally I don't like when my tights don't match my shoes and my skirt because it makes me feel shorter but in this case, because everything else was black and I was wearing heels, it seemed to work. A simple silk blouse in black (the white polk-a-dots make it a lot easier to wear since black isn't my best colour), silky tights (it's much too late in the season for my cashmere or textured ones), skinny heels and a wide belt to define my waste is all this required. The long dangly chain just added a touch of visual interest and draws the eyes up and down to add length. My black moto jacket really worked too – toughened up the whole outfit a little so it was the perfect add-on and, since I didn't have to be outside for any length of time, plenty warm enough.
Weekend in the Country: 
The outfits: The trick to packing light is using one colour palette and filling your suitcase with pieces that all work together and that you can easily mix and match. For a country weekend that included winery tours, a walk on the beach, a dinner at a high end boutique hotel and a casual brunch along with antiquing, visiting art galleries and shopping at farmers' markets, I needed casual outfits that were comfortable but still put together. I started with my current fave Ralph Lauren skinny jeans and my burgundy tote. The jeans are the perfect shade of blue and fit me perfectly without being tight so they're comfortable enough for hours in the car. Paired with an open weave sweater, a brown belt and riding boots I was ready for a Saturday of shopping, wine tasting and a romantic walk on the beach (which required my light weight khaki vest as a topper). When we got to the hotel, all I needed to get ready for dinner was a quick change into my classic Chanel jacket, burgundy booties and a thin belt – funky, comfy, and totally appropriate for the venue. Folding my tote and carrying it like a big envelope clutch added a bit of extra style. The next morning, I paired the jeans with a checkered shirt (that has a thin burgundy line mixed with shades of grey and blue), a charcoal cashmere cardi, the wider belt and the booties for brunch. I jumped back into my riding boots for a last afternoon of browsing in farmers' markets and antique stores – and to drive home (I didn't want to risk marking the suede on the heels of my booties as I drove). All I needed to add to the bag were my bathing suit and my silk pj's and I still had enough clothes to feel like I wasn't wearing the same outfit two days in a row 🙂 
Accessories: I complemented the sweater and the Chanel blazer with a vintage necklace in burgundy and gold on a long silver chain. It's quaint and unusual but perfectly picked up the burgundy in my tote and jacket. Changing my rugged brown leather 1 1/2″ belt for a thinner one with a dressier buckle helped elevate my Saturday night outfit a little and was more appropriate with the Chanel – as was folding the tote into a clutch shape. It made the whole look feel more evening appropriate; details make a big difference. On Sunday I threw on a long silver chain and pendant, pearl drop earrings and a funky brown bracelet. Using the more rugged belt toned down the booties at brunch and matched perfectly with the riding boots later on. I love the mix of caramel with burgundy. The tote makes it a no-brainer as its strap and handles are caramel. 
Classic with a twist: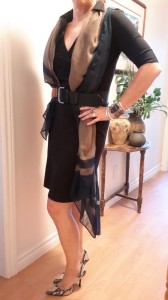 The outfit:  Here's a classic dress that is a go-to when I have meetings. The whole look is casual but refined.  The focus is a simple black faux wrap dress by RK that I've had for years (like 5 or more). It's made from stretch jersey that's as comfy as sweats if not as forgiving. VPL's and obvious rolls or bulges are a real problem with material this clingy and thin and the dress is, sadly, not lined so Spanx are required here. Even when I'm at my thinnest and feeling very good about every part of me (including my tummy), I don't do this dress without good control top tights or my trusty Spanx. 
Accessories: Snakeskin pumps are a classic and are as versatile as any neutral. While snakeskin is really hot this season, I've owned mine for years and I wear them all the time. The long scarf picks up the beige in the shoe and the greyish blue gives the whole look a bit of colour without being too shocking against the black. I just tucked the scarf under the collar so one end would be slightly longer than the dress and cinched it with a wide leather black belt. The belt doesn't stand out enough to visually cut me and make me look shorter but defines my waist and gives the dress some structure. The scarf draws the eye up and down and helps elongate my top half. A casual cuff bracelet from Anne Marie Chagnon in tones of grey and taupe ties in beautifully and is a little unexpected.  
A Much Better Way to Wear the "Canadian Tuxedo":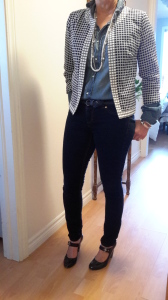 The outfit: Dark skinnies paired with a denim shirt and a patterned navy and white blazer are totally office appropriate. 
Accessories: The navy blue Mary Janes wedges create a long line with the dark denim but are comfortable enough for a busy day including meetings, a staff lunch and some after work drinks. The navy belt (which is hard to see) is knotted and provides a slightly dressier feel to the dark jeans. I love how the pearls (from Honora) play off the denim shirt. Bangles and stud earrings complete the look. 
The sweats again: 
The outfit: I hadn't put my clothes from Friday away yet and the sweats felt like the perfect thing to hit the mall in. This time, they're dressed up with casual black booties, a silk crew neck sweater, a snakeskin print infinity scarf and a pendant. Simple and comfie, but pulled together. 
Wearing sweats to work: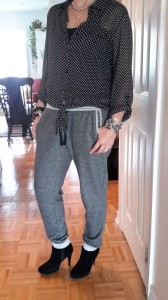 The outfit: I love the "sport inspired" trend that's been going strong for the last few seasons – and I'm thrilled that it shows no sign of disappearing anytime soon. In fact, comfortable and more casual dressing is becoming the norm. These are my new sweatpants. The fabric is rich looking and they have neat details like zippered pockets that take them a little beyond regular sweats. They also fit well – loose enough to be casual but not so baggie either. The key to pulling off sweats as real clothes is to wear them with dressier and / or more structured items. To dress them up for work, I'm wearing a great polk-a-dotted button down from Zac and Rachel. Usually, I tuck it in in the front but this week I was feeling the tie. As the blouse is a little see-through it's layered over a black tank for coverage. Black heeled booties and a little attitude and voila! I could have replaced the sweats with a pair in a dressier fabric (leather, silk, or cotton – I own a pair in black silky cotton that would have worked just as well but, with the black shirt and boots,  felt too dark for this time of year). I could have also added a structured black or cream jacket to the mix to really pull the look together. I didn't because it's like 45 degrees still in our office! 
Accessories: I went high end with a Tiffany beaded necklace layered with a chain and pendant I've owned for years. My Anne-Marie Chagnon cuff (which is in heavy rotation right now because it goes with everything!) picks up the silver but also the cream accents on the pants and in the shirt. Diamond studs finish it off. 
Casual Friday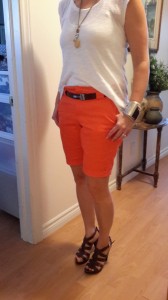 The outfit:
I do love shorts. These orange bermuda were a steal and fit so well. Because they are longer, I can get away with a top with short sleeves.  With strappy heels and a neutral top half-tucked, the shorts really stand out. Simple, comfortable yet put together. 
Accessories: Neutral dark brown heels and a matching belt ground the bright orange. The necklace picks up tones of browns and creme in the natural stone pendant. A stand out cuff bracelet in brown leather and silver and I'm good to go. 
Dinner and jazz with some friends.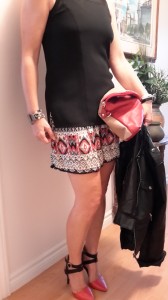 The outfit: As I said before, I'm a big fan of shorts. I like this pair because of the fun pattern and because of how flattering they are. They actually are very high waisted though in this case I played that down with the longer tank. The tank has a high neck and is made in all season wool so it has a dressy and classic feel to it. It's long enough to hang but not over-sized so it doesn't compete with the shorts – and the classic feel plays well off the floaty, girly shorts. I love these heels – completely on trend with the colour blocking and sexy, but easy to walk (or even dance) in. The faux leather moto jacket is the perfect finishing touch for when the evening cools down or the AC kicks in too much.
To pull the shorts off for brunch or a casual day outing I would switch out the dressy tank for a casual cotton one tucked in, belt the shorts to showcase the waist and throw on low-heeled open-toed booties. 
The accessories: I'm wearing a great cuff bracelet from Anne-Marie Chagnon in silver and pearl. It picks up the black and grey accents in the shorts but also plays well off the cream background. A funky cocktail ring with a grey stone, my signature silver bangles, and diamond studs complete the look.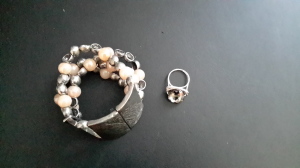 My envelope clutch in caramel and red is an unexpected final touch though I admit to having it overstuffed – as usual.
Relaxed day at work when it's almost 40C outside: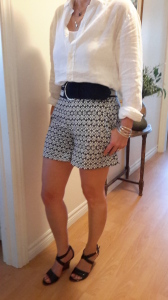 The outfit: Because I work in a casual and creative environment, I can get away with things that are less corporate and more on trend. I love shorts and wear them a lot. This patterned, high waisted pair happens to be relatively short so I wear them with very classic pieces and highlight the waist. I love navy and white in the spring and summer. The belt highlights my waist and provides a bit of added interest to the patterned shorts and classic white button down since it's striped in navy and white. The shirt is my go-to men's department Perry Ellis linen one  and I'm wearing it layered over a simple white tank – not so much for style or coverage, but because it's really hot in our office and, in all honesty, I didn't want to risk sweat marks down the back of my shirt. I've got the sleeves rolled up a few times for a slightly more casual look but I'm wearing them fairly long to balance the shorter shorts. It's important to be covered on top if your bottom is more revealing. The sandals are Franco Sarto which I bought in Winners years ago but they have a really cool wedge heel and are comfortable enough to run around on all day. They are also dressy enough to balance the shorts without being overwhelming or so high as to make the whole thing too sexy. In this case the shorts are the key piece and everything else is chosen to play off them. If it had been cooler I would have added a coordinating but not matching patterned navy and white blazer for a fun but dressy final touch. For the weekend, I might have done just a T or a feminine top instead of the button down and higher heels.
 coordinating short boxy jacket – looks great with either navy or white underneath
The accessories: The outfit is accessorized with layered simple chains with charms (1 of which has a navy blue stone while the others are silver), layered mini pearl rings on my pinky, and my signature silver bangles to which I've added this beauty. I love this bracelet because it's almost organic with it's kind of crumpled and twisted silver and the pearl is such a feminine touch. Classic but interesting.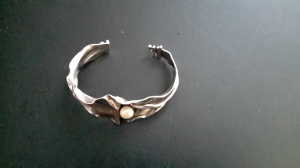 (By Christine Philippe Inc. bought at the One of A Kind Show)
I threw on my navy top handle bag for a totally ladylike finish.
Packing for a weekend get away in Quebec City. 
travelling: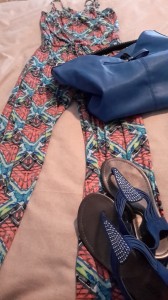 It took me a while to dare try a jumpsuit but once I had I was sold. This one not only boasts pretty colours but is made of the softest cotton. It's like wearing PJ's – perfect for travelling. I packed a light dark grey cotton cardi to throw over top in case the AC got a bit much. Because I want my stuff to do double duty whenever possible I wore the sandals and bag I'd use for evenings once we got there. Matching shoes and bags is coming back and is an easy way to look super trendy. Because this bag is big enough for my tablet, e-reader, make-up case, wallet and a cardi it was easy to save room in my suitcase by carrying it. For jewellery I added a bunch of stacked rings on one finger. Done!
sightseeing: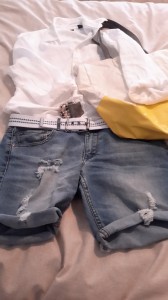 Comfort and style are key when you're sightseeing in the city. I love these shorts! Slightly over-sized and distressed boyfriend jeans cut above the knee are so perfect when paired with a classic linen button-down (mine is a Perry Ellis from the men's department), cuff bracelet, stacked rings, and white Keds. To play on the colour trend of the summer I added a woven belt with a turquoise detail and a bright carry-all.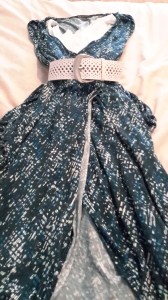 This Armani AX faux-wrap dress looks way better on than it does on the hanger. Layered over a white cotton tank, and matched with a white belt and Keds it's casual enough for wandering through museums – and super comfortable to boot. I used my white and yellow carry-all to tote all my stuff. I liked how the yellow played off the navy and turquoise in the dress and the white tied it in with my belt and shoes. For jewellery, nothing but a ring with a blue stone. Fun and funky.
going out: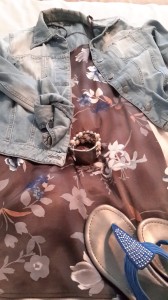 My Armani denim jacket goes with everything and comes with me practically everywhere. Layered over a sundress it's perfect for casual evenings out and, as we'd decided ahead of time we wouldn't choose super dressy restaurants, it was really all I needed. The shoes (totally on trend for the summer with their little embellishment) pick up the blue flowers in the dress. The cuff (which was brand new and which I adore!!!) picks up the grey flowers and adds a dressier feel – particularly when you add Frank Ghery silver dangle earrings from Tiffany's.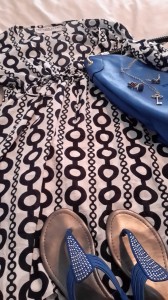 This is a little mini dress (cut a few inches above the knee) I picked up in the BVI's while on holiday. The empire waist is flattering and it's low-cut enough to be a little daring if worn without a tank underneath. On it's own, it would work as a beach cover-up and I've worn it with an over-sized cardigan, tights and booties in the winter, but with bare legs and matched with funky accessories it's a perfect look for a casual dinner out. Yet again, because I like how the royal blue and navy play off each other, I used the dressy sandals and the bag – this time with a Tiffany key, funky drop earrings, and mis-matched rings to make it more interesting. With my Keds and the white tank from earlier I could have easily thrown my tote over my shoulder and gone shopping in the afternoon.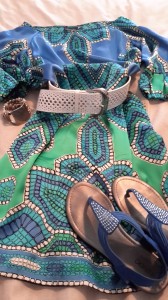 This is one of my favourite tunics – a silk Jones New York that I picked up at a consignment store for $20. I love the colours and how fluid it is. The shoes and the bag (the same blue one from before) perfectly match the blue in the dress and the cuff bracelet picked up the white. It required nothing else to be totally put together. The best part? All of it fit in a carry on size bag that I could easily maneuver on and off the train. 🙂
Classic but colourful outfit to sail at the Royal Canadian Yacht Club.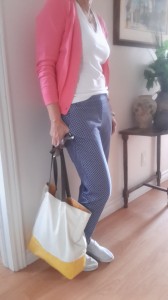 The outfit: This is high and low mix at its best – a Walmart tank (I was buying Easter decorations!), an H&M cotton cardi, and Keds with Cynthia Rowley cropped ankle trousers and Ray Bans. In my bag, a white baseball cap in case it's really sunny and my rain gear because we've had that kind of summer! 
I can't wear yellow – it makes my skin look green. But it's such a happy summer colour and I like how the yellow on the bag plays off the bright pink cardi and cobalt pants. Anchored with white, the bright colours all work together. I rolled up the pants once just to up the casual factor and make the trousers a bit more relaxed. 
A simple tunic with a graphic print is easy and comfy but interesting enough for lunch in Yorkville.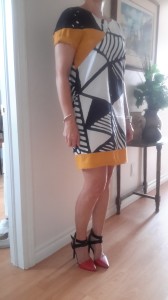 Accessories: A simple silver and citrine bracelet on one arm. My signature stack on the other with the addition of a John Hardy bracelet with gold discs on the slider. The gold and citrine pick up the yellow in the dress. I'm wearing a simple pearl drop on a silver chain as well. Enough to dress up the dress but not overdone. 
Graphic red and black heels and a red envelope clutch finish off the outfit. I love that the colour is unexpected but the colour blocked heels echo the splash of colour in the dress and the yellow and red play well off each other.